VALLALAR LINKS
A Memoir
Picnic Links
Other Places

A MEMOIR
The saint was meek and humble, loving and gentle, simple and plans. He bore patiently the slings of tongues. He was what he uttered and he uttered what his father spoke within him.
"He was a perfect Siddha", says a learned contemporary in a memoir," He had a wonderful power in him to convert flesh-eaters into vegetarians. The magic of his magnetic look pierced into people's hearts and purified them. He could very easily read the mind of others. He often disappeared for many days and none could guess his whereabouts or how he came and went. People entreated him to bless their homes and prepared rich dishes for him. But he suddenly appeared one day when a very simple meal was ready in the house. He was a straight slender figure, not tall; he had a long sharp nose and broad lotus eyes sparkling with spiritual fire.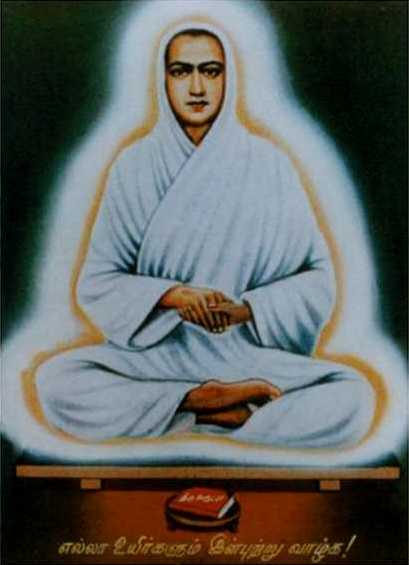 He never shaved his head or face. He had hair and beard. He always put up a countenance of sorrow (for his fellow-creatures). During his last days he allowed his hair to grow long and used sandals. He wore only two pure white clothes. He looked emaciated by hard fasting. He took food once in two or three days in a very limited quantity.
He never linked people hail him as swami. All attempts to take his photograph failed. He condemned the worship of his picture and personality. He never allowed a camera near him. All attempts to paint his form failed. What we have now is an imaginary painting. "Worship me not; I am nothing; let all worship be done to him, my Father, the Lord of Light and Truth. I am only a humble servant of his spiritual communion that my Father has inspired me to organize. Meditate, adore, realize Him in the self". Thus advised his disciples. He never even liked even the word "swami" before his name. He always signed his name as RAMALINGAM. He clearly foresaw the time when his object would fulfill itself in humanity later on. He strongly appealed to his disciples to realize the innate divinity within and surrender all ego to the supreme. Universal love, Universal compassion divine equality of man, and immortality of life were the refrains of his songs. He did not accept any of the so-called faiths. He called his path not by any religious appellation. He called it the pure Spiritual path of Universal harmony (Suddha sanmargha). This term was already used by ancient sages like Thirumular. The circle of his disciples was known as the spiritual Assembly (Sanmargha sangha). Realization of Spiritual Truth-light by absolute surrender, prayer, meditation and purity was the way shown by him.