In order to negotiate with the Environmental pollution, plantations have been done through out Neyveli. Its Afforestation program is a significant one in checking the Environment Degradation. The artificially created lake and Parks in the Afforestation areas and the forest like atmosphere, in the calm places away from the Township offers good recreation.
Neyveli has two mines, the Mine-I and Mine-II.

Mine-I has a demarcated area of 16.69 sq.kms. It is Situated on the Northern part of the field adjacent to the Neyveli township.

Mine-II is located 5kms south of Mine-I. Spread over an area of 26sq.kms., Neyveli Mine is the largest opencast Mine in South Asia.

A tour to these places is not only educative, but also a cynosure to the eyes.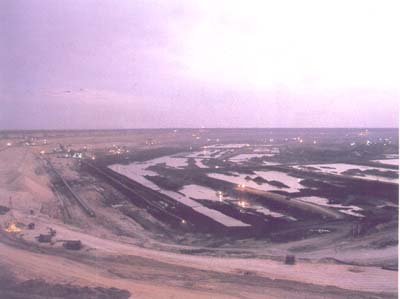 The Thermal power station in Neyveli has two phases. Thermal power station-I and Thermal power station-II.

The Thermal Power station I that is commissioned in 1962 has old technology and the Thermal power station II started in 1986 has the latest.

The Thermal power station is the largest lignite fixed thermal power station in India. The technological evolution in the day-to-day world can be compared between these stations.
A tour to this place will be of good edification.
Temples

There are numerous Temples in Neyveli and each has its own significance. Noted among these are the Veludayanpattu Murugan Temple and the Nataraja temple.

The Veludayanpattu Murugan temple is an old temple. The Punguniuttram festival is of Great importance as thousands of people from the neighboring areas congregate here.

The Nataraja Temple, constructed recently is a beautiful shrine, which features the Statue of the Lord Nataraja dancing. This Temple houses the biggest Nataraja statue.
Guesthouse
The lodging facilities are provided at Neyveli guesthouse and the executive guesthouses of Neyveli. The Neyveli house offers high-tech facilities.

Apart from these there are many private hotels and lodges, which take care of economical lodging.
Bus-route: Neyveli is about 200km south of Chennai. Bus facilities are available to Neyveli from Chennai through the state government transport corporations.
Train route:
The railway station is located at Mandarakuppam in Neyveli.

Trains to Neyveli are available from Virudhachalam junction. Virudhachalam junction is a station in route between Chennai and Thiruchirapalli.
Trains are also available to Virudhachalam from Salem.

Trains to Neyveli are also available from Cuddalore.
TOP

Other Places of Interest